After the very successful "Live in Boston" video it took a long time for you guys to get a new instructional video, the reason for this is very simple. I only release something if we think it's a real addition to our program, and this release sure is. We're very excited about this one. It's not only the longest we ever released, but it's also the first in HD, the first with an extended piece on Photoshop and Lightroom and it's so full with tips and tricks it will probably almost overdose some viewers

So I'm very proud to introduce to you our new instructional video :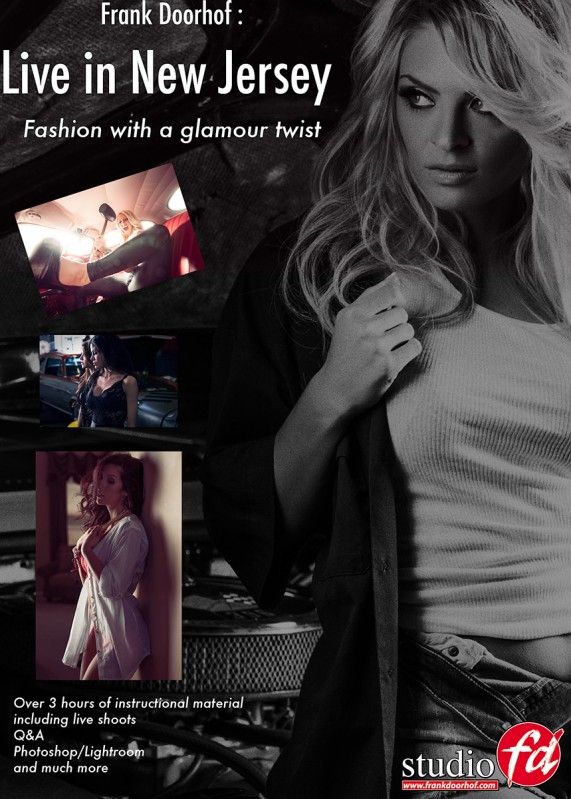 Frank Doorhof : Live in New Jersey : fashion with a glamour twist
Runtime : 3 hours and 5 minutes
Language : English
Target audience : all photographers (beginner and pro)
Includes : live shoots, Q&A and Photoshop/Lightroom tips/tricks
Topics :
Live shoots
Working with limited gear, understanding light and choosing your modifiers, working with high contrast lighting, coaching the models, finding the right angles, working with lensflares, getting special effects with light that others think must be Photoshop, telling/finding the story, talk about the expression/poses and eyes of the models, working in tight spaces, working with 2 models and lighting them perfectly with one strobe, working with the lightmeter, black and white canvas techniques for lighting setups that rock, special lenses for special looks, the importance of the viewpoint and much much more.
Q&A:
Too much information to type down but think about :
Discussion on B&W, social media, building your brand, how to work with your website, streetphotography vs fashion, how to work with clients, business tips, Photoshop opinions, creating the special look, the need to understand light, how to work with models.
Photoshop/Lightroom:
Creating a profile for the colorchecker, workflow tips in Lightroom, retouching in Lightroom vs Photoshop, retouch tips for Lightroom, cleaning the scene after the shoot, creating awesome lighting effects in 5 minutes without filters, working with layer masks for better retouching, creating your own look with DxO and Alien Skin, and much much more.
The instructional video is 6.4GB in size and is full 1080P HD, the file is ready for your iPad/iPhone/Apple TV. We shot the video with several cameras to create a good look about what's going on. This is without any doubt the most complete instructional video I ever did so make sure to check it out.