Shooting on location is still one of the best things to do, however not everyone will have the budget to buy into 2 systems, one for the studio and one for on location. In our studio we use a mix of Elinchrom units in the studio and 2 Elinchrom Rangers and a Quadra for the location work, but I have to be honest it's quite an investment of course, especially when you don't shoot on location for your work (get paid) or if you just shoot on location a few times. In the past there have been some solutions to get your "studio" strobes working on location but I have to be honest that I never really was truly excited about them, well that has changed. Let me start with how this story evolved…..
I love to use smoke on location, to get the smoke working we always bring a Kipor gas generator which works very well, and it can even power your strobes (make sure you get a clear Sinus version because otherwise it will fry your strobes) but let's be honest it's noisy and especially in locations where there are houses close by and you shoot at night well let's say that it's better to have something silent, so I started researching a portable accupack to power my smoke machine. Very soon I ended up with the company Innovatronix, in the past I already used one of their battery powered packs and sold it when I switched to rangers, at that point it was an ok solution but it was not perfect (far from), the guys at Innovatronix were so kind to send me their XT-3 for a review to see if it worked on the smoke machines and to let me play with it, what follows is purely my opinion so don't read it as an in depth look at the system, just my working experience with it.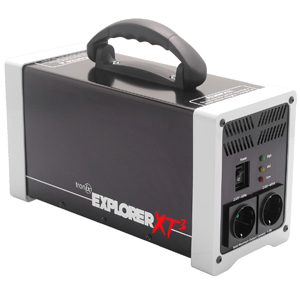 Design
For me design is not really an issue, it can be as ugly as can be, if it works it's great. But if I have to talk about design I can say that I really like the design of the XT-3, the size is nice to carry around and it won't take up too much space in the car, the case is sturdy so you don't have to be worried about it being damaged during normal transport, you should always be careful with your gear of course but it looks like it can take a beating. The carrying handle is a great addition and makes working with the XT-3 easy.
The readout of the leds can be seen from a distance, although I have to add that I would have liked to have a bit more headroom when the leds go red, now it's maybe 15-25 pops and the battery is empty, meaning if you ever see the red led make sure you finish your session because you won't have a lot "juice" left.
Are batteries better than rangers?
Difficult questions because I really love the rangers, but I have to be honest that the recycle time of the Elinchroms I tested on the XT-3 is fast enough for every job, on full power it's more than ok, if we go lower well…. just watch this video from the website and you'll see for yourself, it rocks

Now the question : Would I sell my rangers for the XT-3, well no. In the end it's still easier to bring two rangers with A heads than two RXs with the XT-3. The two rangers I can place far apart from each other, with the XT-3 I will have to use extension cords and in the end the two rangers with A heads will take a little bit less space, but man…… the XT-3 does open options for people who can't or don't want to use 2 systems. I was really surprised by it's performance.
Stamina
Let's look at some numbers.
I got the numbers from Innovatronix but they do reflect my own experience I got with RX600 heads.
Elinchrom Dlite 4 – 560 to 680 pops (400ws)
Elinchrom BXRI 500 – 360 to 450 pops (500ws)
Hensel Integra 500 Plus – 470 to 570 pops (500ws)
Rimelite Fame – 650 to 800 pops (300ws)
Now let's take a look at the alternatives:
Elinchrom Ranger Pack RX speed : 250 – 270 (1100ws)
Elinchrom Ranger Pack RX speed : 5100 (lowest setting)
Elinchrom Ranger RX Quadra : 150 (400ws)
Elinchrom Ranger RX Quadra : 350 (400ws) Li-ion
Recharging times are faster on the Elinchroms, but to be 100% honest I always charge them the day before the shoot and during a shoot.
Recycling is a bit faster on the XT-3 but in reality in most situations both systems work very nicely and there is no real waiting time unless you shoot on full power.
Powering other things
Well this is where it all started of course.
Well I can be very quick with this one, it won't power a smoke machine, we use rather light smoke machines so I did had good hopes but the constant drain is just too much for the XT-3 (and probably most solutions like this), during warm up even our generator is working very hard so I did expected something like this to be honest, but I just hoped it would work.
However while testing the XT-3 I became so enthusiastic about the system that I'm now using it on location more than I expected, I never have to worry about my laptop being without power or my cellphone dying for that matter and I can always use an extra strobe because sometimes I just need 1-2 extra strobes in more complicated setups and with the XT-3 added to my rangers and Quadra I will never have to worry about that again and if I don't need it for the strobes it runs my laptop and other small electronics you need. Do remember the unit is not designed for heavy continuos loads, so I won't recommend running constant lights from it or smoke machines, however things like laptops, charging cellphones, videocameras, a radio it will run without any problems and that really spices up the options during location shoots.
Conclusion

I'm asked to try gear out lots of time and most of them don't even reach our studio for the simple reason that I don't think it's a great product to begin with, some gear will survive maybe 1-2 days in my workflow and I send them back with a nice thank you note, some products I really like and some products I'm REALLY happy with, the XT-3 falls into the latter 
category I just LOVE the XT-3.
If you're like me working on location and in the studio, but you don't want to invest in two systems make sure to check out the Innovatronix XT-3 I'm 100% sure you will love it. Surf to their
website
and check them out (tell them Frank send you

)